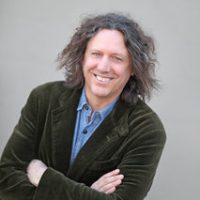 Steve Gorman is best known as the drummer and founding member of one of America's preeminent rock 'n' roll bands, The Black Crowes. Over the last two decades, the band has sold more than 30 million albums and performed thousands of live shows.
The band skyrocketed to success and critical acclaim with their debut album, Shake Your Money Maker (1990), which featured hit singles, "She Talks to Angels," "Jealous Again," and a cover of Otis Redding's "Hard to Handle." The band's second album, The Southern Harmony and Musical Companion, debuted at #1 on the Billboard 200 and included singles "Remedy" and "Thorn in My Pride."
The Black Crowes continue to be one of the world's greatest live bands. From touring with Led Zeppelin's Jimmy Page in 1999 and 2000 – which led to the successful live album, Jimmy Page and The Black Crowes: Live at the Greek – to the recording of Before The Frost/Until The Freeze, an album of new material at Levon Helm's renowned barn in Woodstock, N.Y. in 2009, The Black Crowes have consistently forged their own musical path.
In 2010, following the release of their ninth studio album, Croweology and subsequent supporting tour, the band took a hiatus for two years to pursue individual projects. For Gorman, this was a chance to finally nurture his longtime vision of creating a radio show that combined his two passions: sports and music.
What started as a weekly podcast quickly evolved into a weekly radio show, then to a nightly radio show, and later a local midday show in Nashville, Tenn. In 2013, Gorman reunited with The Black Crowes for the Lay Down With Number 13 World Tour, playing more than 120 shows. For much of the tour, he continued to broadcast daily from radio studios all over the country.
In January 2014, Steve Gorman joined Premiere Networks' syndicated FOX Sports Radio Network for the launch of Steve Gorman SPORTS!. With insider access and insight, Gorman interviews a wide variety of guests from the athletic and musical worlds, delivering unique sports commentary and entertainment, including what's happening in sports, music and pop culture. Steve Gorman SPORTS! airs weekdays from 3 – 6 p.m. ET/noon – 3 p.m. PT on the 24/7 sports radio network.
For more information, please visit www.FOXSportsRadio.com.