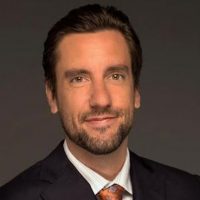 CLAY BIO
Clay Travis is FOX Sports Radio's weekday morning drive host.  The multimedia sports personality joined the network in September 2016 to launch Outkick The Coverage with Clay Travis. Originating from Nashville, Tenn., the program features Travis' informed, outspoken, fearless and often funny commentary on the latest sports headlines, as well as pop culture commentary, interviews and listener interaction.  Broadcasting Monday through Friday from 5 to 8 a.m. ET on 220 stations nationwide, Outkick the Coverage with Clay Travis is also available on FOX Sports Radio's 
channel
 on iHeartRadio, iHeartMedia's industry-leading digital radio platform.  
The FS1 college football analyst and founder of the wildly popular 
OutKickTheCoverage.com
 also hosts the top-ranking Outkick The Show webcast, which is streamed live on Facebook, Periscope, YouTube, FOX Sports GO and FOXSports.com.   Millions of viewers consistently watch/listen to Outkick the Show
, making it one of the most-watched daily sports show streamed live on Periscope and Facebook in the country. 
 In addition, 
OutKickTheCoverage.com
 had another record year in 2015.  The four-year-old site had nearly 12 million unique visitors last year alone, who spent nearly 21 million minutes reading Outkick articles.
In July of 2007, Travis published his first book 
Dixieland Delight, 
a critically-acclaimed chronicle of his 2006 tour of all 12 Southeastern Conference football stadiums and his entertaining fan experiences at every stop. The Nashville native and former lawyer previously wrote columns for 
CBSSports.com
 for four years before joining Deadspin as an editor in 2008.
During fall of that year, he began his second book, On Rocky Top: A Front-Row Seat to the End of an Era, an all-access tell-all documenting the University of Tennessee football program over the course of its season.
After spending 2009-2011 as a columnist for AOL FanHouse, Travis launched Outkick The Coverage, then an SEC-centric news and opinion blog, in July 2011. Gaining strong traction through the world of social media, Outkick became an internet phenomenon, attracting an average of two million unique visitors each month. The site entered a licensing partnership with FOX Sports in July 2013, at which time Travis also became a college football analyst for FS1. He also co-hosted the top-rated 3HL on 104.5 The Zone in Nashville for five years.