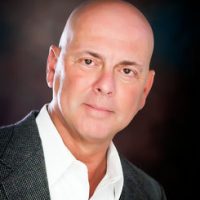 I began my career in this business in 1975 at the radio station with the greatest call letters ever, WRCK 106 ROCK . As a part time DJ my job was to do what all part timers do ,work when others didn't want to. And I did. My first schedules were 18 hours every weekend. After years of working at every radio station in the shoals, leaving radio, coming back to radio, working jobs on the side and so on, I began working for what I think is the best family and company anyone could hope to work for, Big River Broadcasting.
My current position here is co-host of "The Approach" on Fox Sports Shoals.
I'm all the host of "Your Morning Show" on Q107.
On a personal note, after years of living the single life I am now married to the greatest woman you could ever dream of (suck up begins here) Brandi. We have one child, a yorkie named BoJo which stands for Brandi O and Jimmy O. I didn't think of the name, I'm not that clever but my wife is. I love to play golf when I'm not working and when i'm not playing golf, I love to play golf.
That's all and thanks for listening!
– Jimmy O