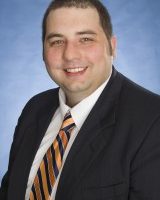 Chuck Hammer joined the Fox Sports Shoals team in June 2016 assuming the position of program director for WSBM. He was named the Alabama Broadcasters Association 2018 Medium Market Sports Broadcaster of the Year.  He graduated from The University of Tennessee at Martin in May 2016, with a Bachelor of Arts degree in communications – broadcasting.
Prior to moving to Florence/Muscle Shoals, Hammer served as program director of the nationally award-winning campus radio station WUTM 90.3 FM "The Hawk" from 2014-2016 at UT Martin. He was responsible for every aspect of on-air programming for the station, including supervising all on-air and production staff; reviewing and selecting music and public service announcements; making personnel scheduling decisions; and helping to ensure the station remains in compliance with all Federal Communications Commission and campus regulations.  Hammer was named the "Best Program Director in the Nation" by the Intercollegiate Broadcasting System and received the honor at the organization's annual conference in New York City in March 2016.
While at UT Martin, Hammer worked to produce varied and diverse programming, including several outreach programs with other campus departments. One such program incorporated faculty from the Department of English and Modern Foreign Languages and the Department of History and Philosophy to provide poetry readings in various languages.
Hammer was also involved in the celebration of World College Radio Day in October 2015, which included student appearances on WCMT's "Good Times in the Morning" program, securing proclamations from the mayors of the city of Martin and Weakley County, and coordinating a one-hour simulcast, which was aired around the world on campus stations.
WUTM and its staff received several prestigious awards during Hammer's tenure as program director, including "Best of Show" from the Tennessee Associated Press Collegiate Competition, "Best College Radio Station in the South" from the Southeast Journalism Conference, and a platinum rating from the Intercollegiate Broadcasting System.
Hammer himself took home two personal awards from the Tennessee Associated Press Collegiate Competition. He has also been recognized at UT Martin with the Duke Drumm Thunderbolt Broadcasting Scholarship for 2014 and 2015, the WUTM Dr. Gary Steinke Broadcast Excellence Award in 2015 and the WUTM Faculty Advisor Award in 2014 and 2015.
Hammer also worked part-time at Thunderbolt Broadcasting from 1999-2005 & 2013-2016, the company that owns five Northwest Tennessee radio stations including WCMT AM-FM in Martin, WCDZ-Star 95.1 in Dresden, and WQAK and KYTN in Union City. Hammer graduated in May 2016 with a B.A. in Communications from The University of Tennessee at Martin.
He served honorably in the US Navy aboard the USS John C. Stennis CVN-74 from 2007 to 2012. Hammer and his wife, Jade, are raising twins, Colby and Calleigh.